Chamber Donates over $10,000 to Local Non Profits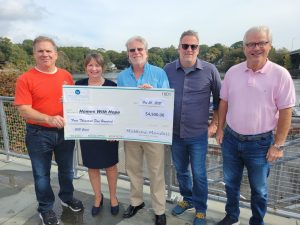 The Chamber of Commerce is pleased to announce donations of over $10,000 from the recently held Slice of Saugatuck and Westport Dog Festivals.
After a Covid forced hiatus of both festivals in 2020, the Chamber ran both events essentially back-to-back this fall with great success. As always, the sole beneficiary of a donation from the Slice of Saugatuck Festival is Homes with Hope's Gillespie Food Pantry, in the amount of $4500. With this donation over $30,000 has been raised over the years to feed the hungry through this event. The giant neighborhood food tasting carries the phrase, "food for those who can afford it and food for those who can't."
Donations to local non-profits from the Dog Festival total $6000 this year with four thousand going to TAILS the event's co-producer with the Chamber, $1000 going to the Westport Police Department split between the K9 unit and Animal Control via Westport Animal Shelter Advocates (WASA), $500 to Fidelco Guide Dogs, $250 to the CT Human Society and $250 to Adopt-a-Dog, winners of the Jon Nowinski memorial Community Champion award.
"We are thrilled to make these donations and help out where we can," said Matthew Mandell, Executive Director of the Chamber. "It took a lot to run these two events as we did, but it was totally worth it. The community completely embraced them and it showed Westport is still raring to go as we hopefully exit the pandemic."