2020 HALLOWEEN WINDOW PAINTING CONTEST

WINNERS ANNOUNCED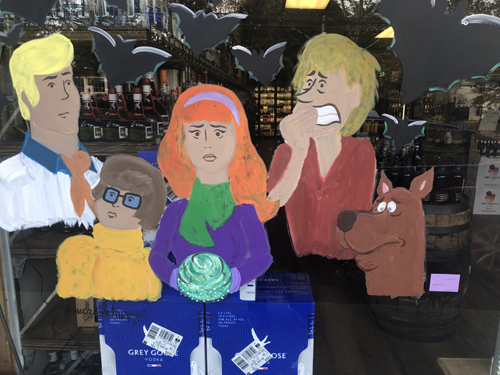 High School winner @ Greens Farms Spirits
Elementary
SCARIEST- Perri Schleef 5th Grade Weston Elementary School (Baker Graphics)
BEST HALLOWEEN THEME – Calvin Carreras 1st Grade Long Lots and helpers: Julian Carreras and Aaron Slomich (1st Nail Spa)
MOST ORIGINAL – Tie
Caroline Hammond 2nd Grade Saugatuck (Stiles Market)
Chloe Robbin  2nd Grade Long Lots (Fleet Feet)
Middle School
SCARIEST – Sophie Jacques 6th Grade Housatonic Valley Waldorf School (Stephen Kempson)
BEST HALLOWEEN- Sally Nathan 6th Grade Bedford Middle (Cycleology)
MOST ORIGINAL- Hailey Kiperman 6th Grade The Southport School (Restore Hyper Wellness + Cryotherapy)
High School
Most Original
Ella Schweizer- Freshman at Brien McMahon HS, Norwalk (Greens Farms Spirit)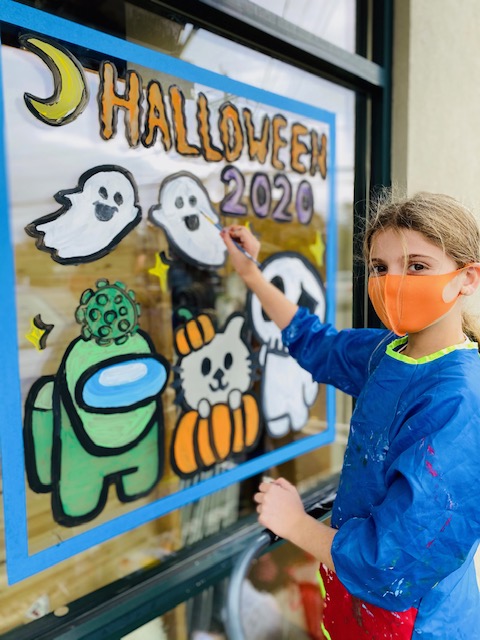 Most Original Middle School @ Cycleology
Merchants offer their windows for painting and kids coming out to paint them. What could be better?
This year, let's spook the virus out of town. 
This will be a fun socially distant event that everyone is going to enjoy.
On Saturday October 24th, between 9am and 4pm, kids will paint a window requested or assigned to them. Judges will come around in the next few days and determine winners based on three different criteria and age/school (Elementary, Middle School, High School).
1. Scariest Art Work
2. Best Halloween Theme
3. Most Original
There will be 9 total winners
Sign up and be a part of the happening
WINDOWS NEEDED SIGN UP HERE ($25)
AND
PAINTER SIGN UP HERE  (CLOSED - Sorry, over 100 kids signed up)
 Thanks.  Painting will take place on Saturday and winners announced on Tuesday.
Winners receive a gift certificate for Donuts from Donut Crazy and an award.
Merchants will mark off a 3' x 3' maximum area on their window, prior to the 24th, for painting and will leave the art work up through Halloween. Winning windows will display the ribbon as well.  Merchants are responsible for cleaning off their windows after Halloween.
Painters will supply their own WATER BASED paint, drop clothes, brushes and clean up after they are done. Winners will have their pictures taken with the window and have it submitted to the press, as well as receive a $25 gift certificate from chamber member Donut Crazy.