2020 HOLIDAY WINDOW DECORATING CONTEST 
A collaboration of the Westport Downtown Merchant's Association and the Westport Weston Chamber of Commerce
We Invite Residents to Vote for Best Windows
44 Local Businesses have decorated their windows and stores to add cheer and fun to our community during this festival time of year. Now you can vote for who did the best job.  Simply visit stores and take a look and you get to make the decision.   A QR and flyer will be placed at each venue for easy access to the voting via phone via access to this page.
The Winners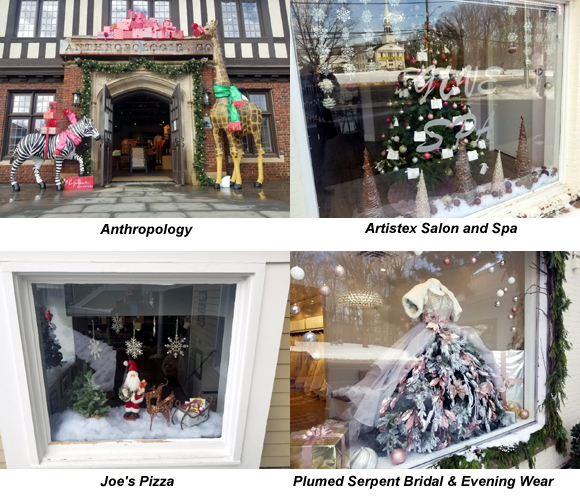 Mom & Pop  -  The Plumed Serpent Bridal and Evening Wear
National Chain - Anthropology 
Restaurant / Deli - Joe's Pizza 
Non Retail -  Artistex Salon and Spa
Grand Prize with most votes - The Plumed Serpent. They win a dinner for four at Don Memo. 
Four Categories:
National Chain, Mom & Pop, Restaurant / Deli, Non-retail Business
Participating  Venues
| | | |
| --- | --- | --- |
| Artistex Salon & Spa | 260 Post Rd E | Non Retail |
| Anthropologie | 59 Post Rd E | National Chain |
| Arezzo | 5 Riverside Ave | Restaurant |
| Bella Bridesmaids | 19 Post Rd W | Mom & Pop |
| Cycleology Bike & Ski | 1554 Post Rd E | Mom & Pop |
| Danise Talbot Design | 263 Riverside Ave | Mom & Pop |
| Fleet Feet Westport | 10 Sconset Sq | Mom & Pop |
| Franny's Farmacy | 31 Church Lane | Mom & Pop |
| Fred | 30 Post Rd E | Mom & Pop |
| Greens Farms Spirit Shop | 1250 Post Rd E | Mom & Pop |
| J. Crew | 145 Main Street | National Chain |
| Joe's Pizza | 190 Main St | Restaurant |
| Johnny Was | 81 Main Street | National Chain |
| L'antiquaire | 18 Post Rd W | Mom & Pop |
| Laura Bazante | 23 Post Rd W | Non Retail |
| Le Rouge  Chocolates by Aarti | 190 Main Street | Mom & Pop |
| Lifeworx | 21 Post Rd W | Non Retail |
| Lux Bond & Green | 136 Main Street | National Chain |
| Madewell | 155 Main Street | National Chain |
| Marine Layer | 133 Main St | National Chain |
| Middle March | 62 Post Rd E | Mom & Pop |
| Nick & Zoe | 7 Church Lane | National Chain |
| Noya Fine Jewelry | 18 Riverside Ave | Mom & Pop |
| Oddz | 139 Post Rd E | Mom & Pop |
| Organachs Farm to Skin | 15 Post Rd W | Mom & Pop |
| Pink Sumo | 4 Church Lane | Restaurant |
| Pottery Barn | 27 Main Street | National Chain |
| Restore Hyper Wellness & Cryotherapy | 877 Post Rd E | Non Retail |
| Savannah Bee | 43 Church Lane | National Chain |
| Savvy & Grace | 146 Main Street | Mom & Pop |
| Shoe Inn | 21 Main Street | Mom & Pop |
| Shoes N More | 275 Post Rd E | Mom & Pop |
| Simon Pearce | 170 Main Street | National Chain |
| Soileil Toile | 24 Post Rd E | Mom & Pop |
| Sorelle Gallery | 19 Church Lane | Mom & Pop |
| South Moon Under | 14 Post Rd E | National Chain |
| Stephen Kempson London | 5 Post Rd E | Mom & Pop |
| Talbots | 165 Main Street | National Chain |
| The Plumed Serpent Bridal & Evening Wear | 240 Post Rd E | Mom & Pop |
| Vineyard Vines | 90 Main Street | National Chain |
| WEST | 117 Post Rd E | Mom & Pop |
| West Elm | 35 Main Street | National Chain |
| Westport Yarns | 582 Post Rd E | Mom & Pop |
| Winfield Street  Coffee | 13 Post Rd W | Restaurant |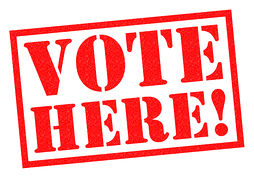 VOTING IS LIVE - VOTE NOW
MOM & POP (2 lists)