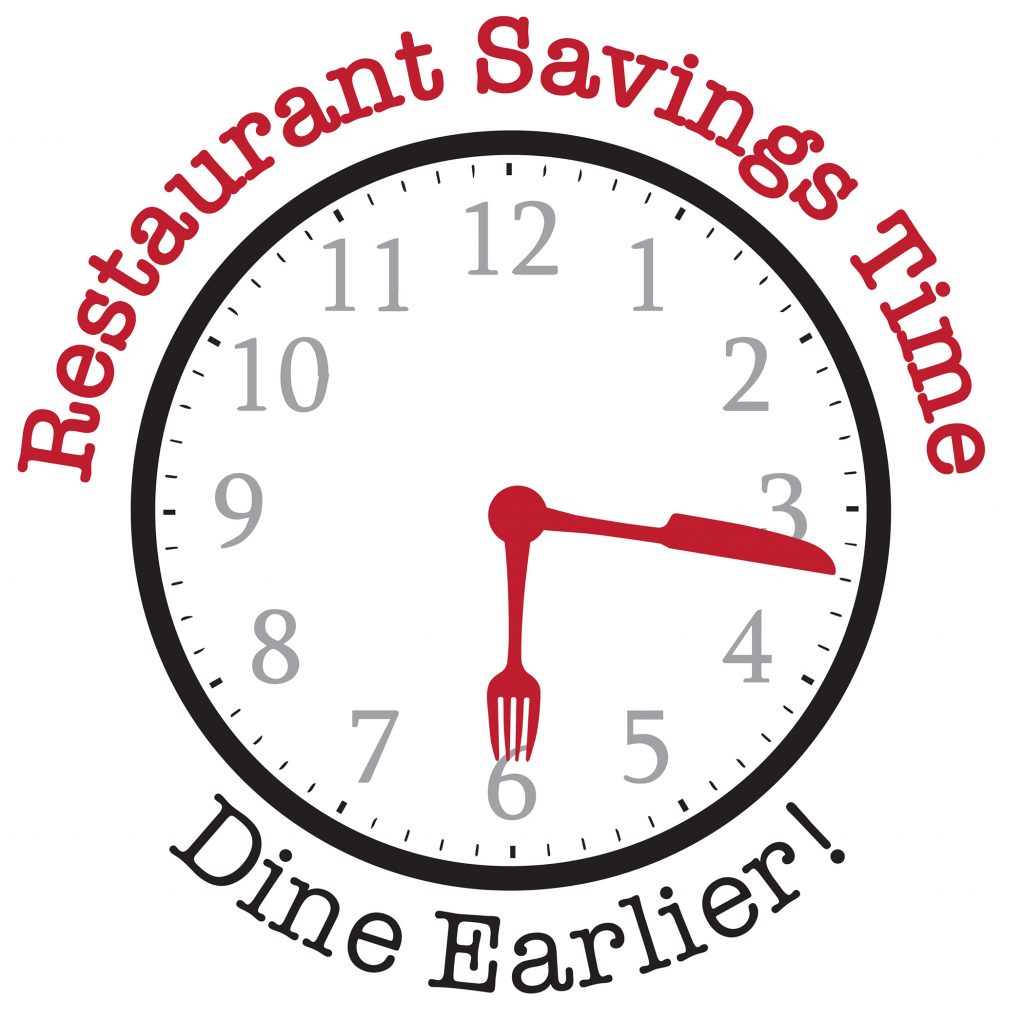 Logo by Miggs Burroughs
For Immediate Release: November 17, 2020.  The Westport Weston Chamber of Commerce is pleased to announce a new initiative,  Restaurant Savings Time - Dine Earlier, as a way to aid restaurants in response to the Governor's executive order to close businesses at 9:30pm.
With the recent rise in Covid-19 cases in Connecticut, Governor Ned Lamont rolled the state back to Phase 2.1 ReOpening which ordered many businesses, including restaurants, to close at 9:30pm in order to decrease the congregation and exposure of people.  This directly affects the bottom line of restaurants who will lose possibly an entire seating of patrons, especially on weekends.
Restaurant Savings Time is a call for residents to dine earlier and thus shift seatings up in order to help eateries maintain their current revenue stream. Based on the idea of Daylight Savings time, if everyone simply shifts one hour, everything essentially stays the same, but is just earlier.
"Have a great dinner at 6:15 instead of 7:15 is the request, I am confident Westporters will respond, " said Matthew Mandell Executive Director of the Chamber. "It's all about flexibility and a desire to adapt to a new situation, while still enjoying what our town as to offer."
Flyers and posters will go up at restaurants and the logo, designed by Miggs Burroughs, will be posted on social media seeking this easy and voluntary call to action and support.
"Restaurant Savings Time is a great idea! Support your local restaurants and dine a littler earlier, but also be sensitive to leave time to those coming after you," said Frank Marchetti, owner of Tarantino. "We will get through this together."
Table duration also affects turnover of tables. As well as start time, people being cognizant of their time at their table is also an important component in making this work efficiently.
This new initiative follows on the heels of the BYOB - Bring Your Own Blanket program, the second push in as many weeks by the Chamber, to help our restaurants survive as the weather gets cooler and the virus threat continues.
More information and a list of restaurants offering outdoor dining can be found at www.westportwestonchamber.com