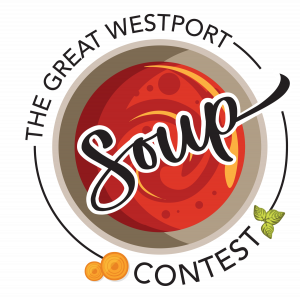 SIGN UP HERE!!!!
Sponsored by
MARCH IS SOUP MONTH
Eat  Soup and you get to choose who makes the Best Soup in Westport
7 Different Categories with ? participating Restaurants
#greatwestportsoup
 -----------------------
Welcome to the Great Westport Soup Contest Sign up form.
Please fill out the form and select the contest categories you want to participate in. You may select up
to 4 that you feel work with your offerings.
(No one restaurant can win more than 2 categories.)
Entry fee is $125 - we will bill you (must be paid by March 1 to participate)
---------------
Beef Soup -- ie Beef Barley etc....
Chicken Soup - ie Chicken Noodles, Chicken and Rice etc...
Vegetable Soup - ie Minestrone, Lentil, Pea etc...
Asian Soup - ie Ramen, Pho, Miso, Wanton etc.......
Chowder - ie Clam, Lobster, Corn etc....
Onion Soup - Traditional
Matzoh Ball Soup - Traditional
Logo designed by Graphixworks
Excellent printing donated by